Christmas 2003: Before we knew what Anthony's liver disease was and how quickly it would progress. He was just a few weeks old when these pictures were taken.
Christmas 2004: Anthony was dealing with over-immune-suppression and a nasty virus. We had spent one week per month in the hospital since August, and were getting ready to head to Nebraska so they could figure out what was wrong (in January 2005).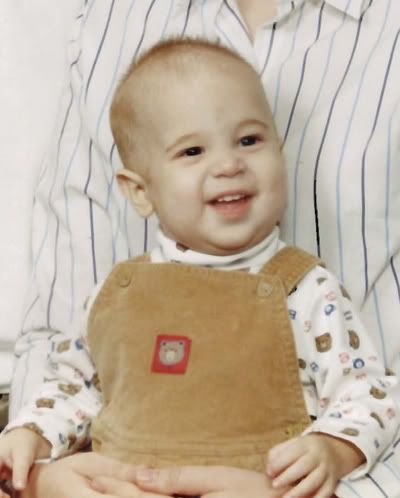 Christmas 2005: This is really his two-year old picture because we didn't have Christmas pictures done. He was so healthy and had only spent one week in the hospital that year for his
mastoid infection
. He didn't want to have his picture taken and had cried a little bit.
Christmas 2006: A year of (almost) perfect health! No hospital stays, and only two small surgeries (one
granuloma
and the
tubes/adenoidectomy
).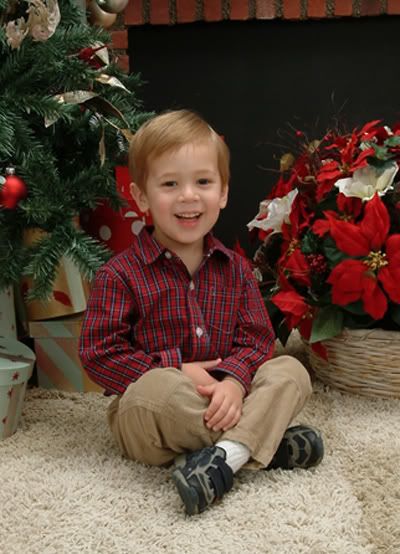 I'm struck by how sick Anthony looks in the picture from 2004. I didn't really think of him as "sick" even though we had been in the hospital so much. Can you tell he was a bit anemic, too? It's the same smile, though, in every picture (well, except the first one where he's sleeping).
Update:
We had a wonderful Thanksgiving holiday! We got to visit with all kinds of family, eat all kinds of delicious foods, and do some Black Friday shopping. I'm not ready for the holiday to end, but I know that I only have one week of classes and then a week of finals left. I guess it's better to just bite the bullet and get it over with!
Anthony is doing great. It will be tough for him to return to school tomorrow, too. He's been so spoiled this weekend with all of his aunts and uncles here.
I hope you all had a safe and wonderful Thanksgiving!
Love, Laurie