I am so sorry I have neglected you. You see, my life is boring right now. Sleep, wake up, eat, school, eat, play trains, ride bike, bathe, sleep...lather, rinse, repeat.
We were in Georgia this past weekend. Lunch with Kri Kri and then the weekend at Uncle Matt's to help him move into his new house. Not much to say there...except: how CUTE are they?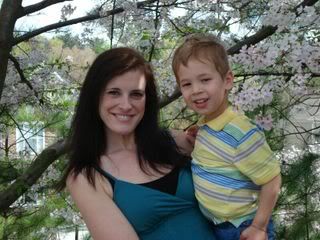 Now, please allow me to brag a little bit (this IS my blog, after all). Anthony did not have a single accident this past weekend! Friday: A car ride to the New Orleans airport, a plane trip to Atlanta, a 2 hour car ride to Uncle Matt's...dry. Saturday and Sunday we pretty much hung out at Uncle Matt's house, so I didn't expect any accidents there! But on Monday, we took a loooong car ride home, and Anthony stayed dry the entire time! We did, of course, take four breaks for potty time.
I am just so proud of Anthony, and amazed at how easy potty training really was...once he was READY.
Like I said, life has been quiet around here, and I'm glad for that!
Mark's birthday is Sunday (he'll be THIRTY!), and we will probably go to my great-uncle's house for a Palm Sunday gathering. We'll have breakfast with the Easter Bunny at Anthony's school on Saturday morning, and a trip to the zoo if it doesn't rain.
Pictures soon...