Well! Anthony was put in his first time out EVER this morning! While watching his morning Baby Einstein video and eating his requisite bowl of cereal, Anthony decided to dump his bowl of cereal over (no milk, just dry cereal). We picked up the cereal, had a little "talk" about why we don't dump out our cereal and continued with the show. A little while later, after Einstein had ended, Anthony was making moves towards his cereal bowl with a gleam in his eye. I told him not to dump the cereal out. He picks up the bowl, looks at me, and dumps the bowl OVER HIS HEAD. So he got a two minute time out for that, and I'm just glad that no strangers could see the way he carried on over having to sit in Daddy's chair with NO BOOKS, NO MILK, and NO CEREAL for two whole minutes! It was pure torture. For him, too. It's an experience I hope we don't have to repeat soon. Of course, now I know that when he's finished with his cereal, I should just pick the bowl up instead of leaving the temptation there.
On Monday night we helped my parents decorate their tree. Anthony got to put the angel on top of the tree, and we got a few cute pictures out of it.
Speech therapy is today, and we're anxious to show Ms. Heather our new words. He's really picked up on the "No, no!" big time, and he's saying more and more words clearly.
Final exams are next week. I've got six exams and one paper due. I took one final yesterday, and am glad to get that one (Psychology) out of the way.
I hope everyone has a wonderful weekend! Enjoy the pictures!
Love, Laurie, Mark and Anthony
Coming up in Anthony-land:
Saturday: breakfast with Santa at Maw Maw and Paw Paw's church, dinner with Nana and Grandpa and a ride to see Christmas lights!
Sunday: breakfast with Santa at Nana and Grandpa's church
Monday: back to school!
Please notice that Paw Paw and Anthony have matching expressions on their faces. He does have a BIT of my family's genes in there, somewhere!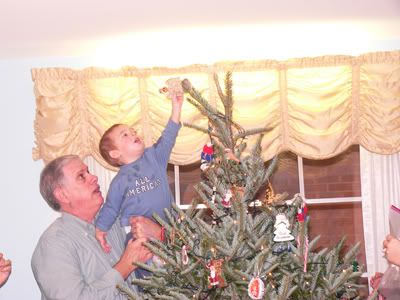 This kid's gettin' heavy!