Anthony ate leftover crab last night from our crab boil last Friday. This is the first time I've seen him eat crab, but the other night at Mark's parents' house, he was eating like he was never going to eat again. Grandpa was peeling crabs, and Anthony was eating. I was afraid they might be a bit too spicy for him, but he
loved
it.
And as much as I complain about the beast (cat) we have living with us (Alexis), every now and then I'll peel a bit of crab for her, too.
Last night, though, I had two creatures in my house whining and crying for their crabs. Anthony was sitting in his high chair and Alexis was sitting on the floor. She'd meow, and he'd whine, she'd meow and he'd whine. It almost made me want to run for the hills. I stayed, so I could post these pictures for your enjoyment...
"Hmmmmm...I wonder which plate I'll get..."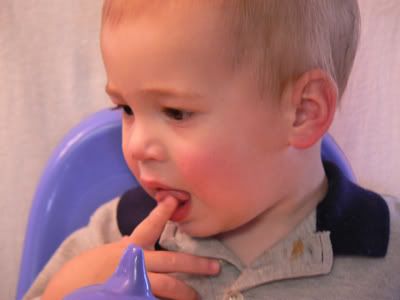 Alexis and Anthony enjoying the feast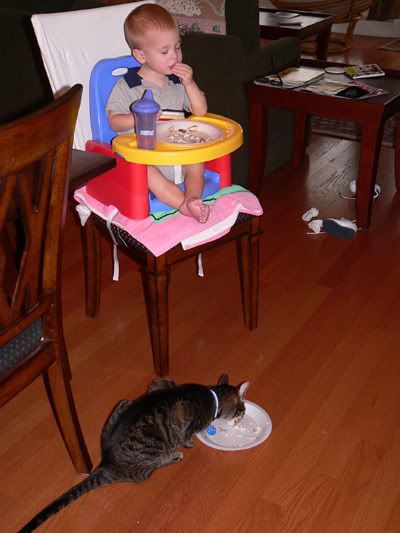 Anthony laughing over his crabs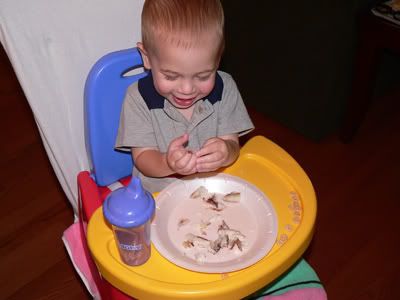 Thanks for checking in on us!
Love, Laurie, Mark and Anthony
Coming up in Anthony-land:
Satuday: Lunch with Maw Maw Peck
Sunday: Lunch at Nana and Grandpa's; Maw Maw & Paw Paw come home from vacation
Nothing next week!
August 1: Labs, ENT, Immunizations (Zowie!)
August 5: A trip to the beach?