That's the theme in our house these days. Anthony cannot get enough to eat! Everything you put in front of him disappears into his mouth...as evidenced by the picture below of him eating spaghetti and meatsauce tonight.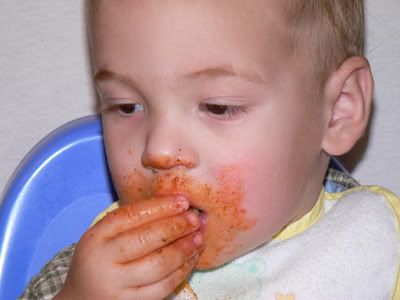 Nana sent him home tonight with a big serving of the spaghetti and meatsauce and I'm convinced he ate all but a spoonful. There was no spaghetti left on the chair or tray when he finished! PIG.
Also, Anthony has not cried when I dropped him off at day care this week. Granted it's only been two days, but this is something major for us! Usually I leave a sobbing child cuddling with the teacher. Monday he strutted right on in to his classroom, gave me a kiss, waved "bye-bye" and walked over to the rug to watch the TV. Today his teacher had the kids in a different classroom, but he wasn't thrown off by that at all. And I had to chase him down for a hug and kiss! I thought I'd be excited when this happened...and I
am
. I'm just a little sad, too. It's just one more step towards "BIG BOY", and I'm not sure I'm ready!
Other than those two things, life has been blissfully boring here. I still can't share my other secret, but it's coming soon, I promise! And no, Andree, no one's getting married...sorry! The "secret" is actually all about
me
...and Stacy, I'm STILL not pregnant.
Oh! Anthony did the funniest thing tonight (warning: bodily functions written next). While we were all sitting down to eat, Anthony leaned to the right in his chair and let one rip! Well, Mark and I thought that was just the funniest thing, and of course when we laugh Anthony laughs! This kid just keeps doing the silliest things.
Thanks for checking in on us!
Love, Laurie, Mark and Anthony
Coming up in Anthony-land:
August 1: labs, ENT, immunizations and an afternoon with Maw Maw and Maw Maw Peck!
August 5: a trip to the beach?
August 7: Aunt Emilie comes home from Atlanta!!!