On May 15th (this coming Sunday), Anthony, my mom and I will have been home from Omaha for ONE YEAR. I guess I'm looking at it as an anniversary of sorts. I was finally back in the land of WARM (OK, HOT) and I hadn't missed crawfish season! That alone is a reason to celebrate! But more than that, it was truly the beginning of our life together as a "healthy" family. Since Anthony had been born, all we had known was a sick baby (well, except for the first three days of life). We had been constantly giving medicine, watching poop color (sorry, guys), watching our baby go from pale yellow to neon orange. There were times I didn't think I could take anymore. But there was always someone there to help Anthony and I go on. To everyone who was there for us during that time (physically, mentally, spiritually), we owe you so much.
Here are a few numbers for you...
Days Anthony and I were in Omaha: 98
Days Mark was in Omaha: 43
Days Carol (my mom) was in Omaha: 58, Days Dick (my dad) was in Omaha: 9
Days Margaret (Mark's mom) was in Omaha: 27, Days Mike (Mark's dad) was in Omaha: 13
Days Patsy (my mom's cousin) was in Omaha: 15 (or maybe 16)
Days Emilie (my younger sister) was in Omaha: 8
Days Marshall (Mark's youngest brother) was in Omaha: 4
Days Kristen (my older sister) was in Omaha: 4 (I think, maybe 5?)
I was never alone for more than a couple of hours in between someone leaving and someone coming. How awesome is that?
Times Anthony's abdomen was drained of fluid: 8
Amount (in CCs or MLs) of fluid drained: 6770 (that doesn't count the liter and a half they got when they took Anthony in to transplant)
Central lines placed: 3
Biopsies done: 4 (1 wedge biopsy done in Baton Rouge right after Anthony was born, three done after we came home from Omaha)
Surgeries (including central lines/transplant/biopsies): 11
Medicines Anthony was on after transplant:
Acyclovir, Amlodipine, Aspirin, Bactrim, Prednisolone, Prograf, Zantac
He has also taken Amoxicillin, Valcyte, an IV treatment of Solumedrol (steroid), an IV treatment of Immune Globulin, an IV treatment of Acyclovir and two blood transfusions.
Keep in mind that Anthony's not even 18 months yet!
I was looking at the calendar I kept most of my notes on while we were in Omaha, and I realized that on February 21st, Anthony was 66.5 cm around at his widest part of his belly and was only 63 cm around! The other thing I noted was that if Anthony's surgeon (Dr. Loe) hadn't called Dr. Udall's office (our GI) to schedule an appointment for Anthony, we would have kept our March 10th appointment with Dr. Udall. What strikes me is this: Anthony's transplant was March 9th. The transplant team told me he would not have made it another 24 hours waiting for his new liver.
Shudder.
Most of you have seen these, but check out these pictures of Anthony in Omaha:
Anthony when he was bigger around than he was long (it's hard to see that in the picture, just believe me, OK? That's a Size Four diaper he's wearing there, and we were putting Newborn to Size One diapers on him after he was drained each time):
Anthony the morning of surgery: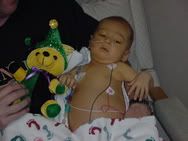 Anthony right after surgery:
Anthony about a month and a half after the surgery, in the apartment:
Anthony on May 13th waiting in Clinic (on my mom's knee) for word that we can GO HOME!
What a journey this has been! I wouldn't change a bit of it for anything, because then Anthony wouldn't be the little man he is. He went back to Day Care today, and when I called to check on him he was playing with some of the kids (his blonde girlfriend included). This weekend is going to be full of just happiness that I'm home. Maybe I'll snag a crawfish or two, too!
Also, I know how lucky I am in the grand scheme of things for how "smoothly" Anthony's transplant and recovery went. Believe me...it could have been a million times worse, and I thank God every day that he let me have an "easy" transplant baby!
Love to you all, Laurie