Anthony had a good, quiet night. The nurse came in at midnight to start his next IV and he slept through it. He woke up at 3:30 when she came in to disconnect the IV, and look at his spots. They're neither better nor worse this morning, but at least he's not itching as much. We settled back to sleep pretty quickly, and slept until 5:30.
Other than that, we're waiting for Mark to arrive. I will go to work for a little while today. Mark and Anthony will spend time in this room coloring, reading books, watching movies, etc. Anthony can't leave the room because he's in isolation from the "suspected case" of chicken pox. So this little room will be his everything for next couple of days.
I don't know when we'll get out of here, or what the next step in treatment is. Our transplant team feels that once he shows no reaction to the IV treatments, we can finish the IV treatments at home. Our pediatrician is dictating his treatment, though, so it's all going to come down to what the pediatrician is comfortable with. I'm sure Mark will talk to him about that today.
Anthony got some puzzles to play with from the Child Life department yesterday, so he and Maw Maw and Paw Paw did a Curious George puzzle before they left last night.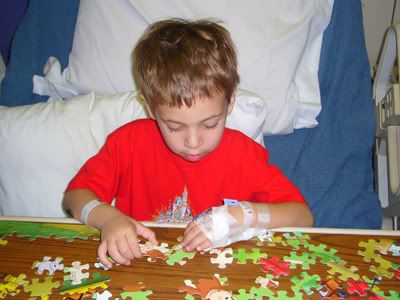 And then when he got up this morning, he wanted me to take a picture of him in bed snuggled up with his friends.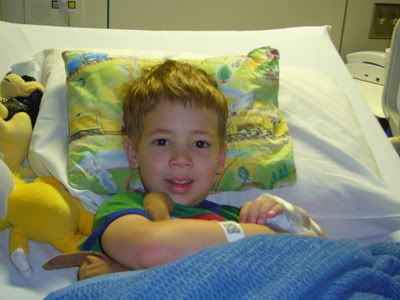 More updates later!