Today Danette, TJ and Mia came to visit! The three of us, plus them, and Parrain went to the
Aquarium of the Americas
in New Orleans. The kids had a blast! Danette and I spent a lot of our time trying to get Mia to smile for the camera; Anthony would do his typical "CheeeEEEEEEESE", and Mia would just turn her head. I got her, though! Once!
Anthony had a great time looking at the boats on the river before going into the aquarium.
I just love this face:
This was a typical picture of Mia: Danette smiling, and Mia with her tongue out ("Pbbbt!")
Anthony got to pet a nurser shark!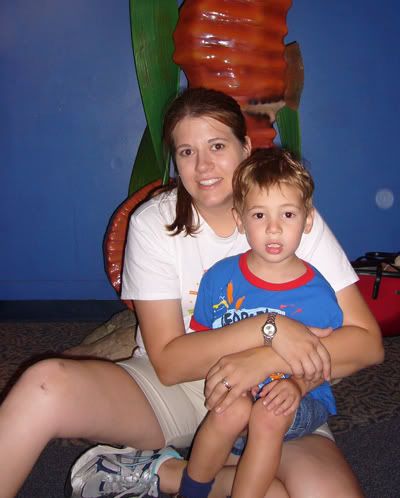 The kids being silly:
Gotcha, Mia!
Coming up in the next few days:
Monday: pool time with Mimi if it doesn't rain!
Tuesday: dental work
Wednesday: Laurie has another appointment with the orthopedist
Monday, June 4th: Laurie heads to "work" at the hospital for her clinical rotations