This past weekend was so much fun! First off, we sprung a few surprises on my mom, whose birthday is Christmas Eve! She is the first-born of all of her cousins and she hit a "milestone" this year, so we had a huge family gathering at my parents' house for her. It was a surprise until Thursday when we (my sisters, dad and I) told her. Fifty-something people were expected, and we knew it would be impossible to fix a gumbo and potato salad for that many people without her expecting something! I think the official head count was 43...and it was so wonderful to have our families together. Thank you to everyone who came to help make her day special. To those of you who couldn't make it...we know you were there in spirit!
The other surprise we had for my mom was a picture of the three girls. We had done a similar picture ten years ago, and figured it was time to update the picture. It's really a great picture of the three of us (if I do say so myself). I'll scan my copy and post it sometime. My mom really loved it, and that's what was important.
Christmas was a beautiful day, too. Mark and I opened our presents Christmas Eve after Anthony was asleep, so that Christmas morning would be all about him. He got some really fun things, and is so excited about his basketball goal. After presents at our house, we went to my parents' house for breakfast, presents, lunch and nap time. After nap time, we went to Mark's parents' house and rounded out the Christmas present experience there. I think Anthony might have gone into shock if he'd had one more present to open!
Opening gifts at our house: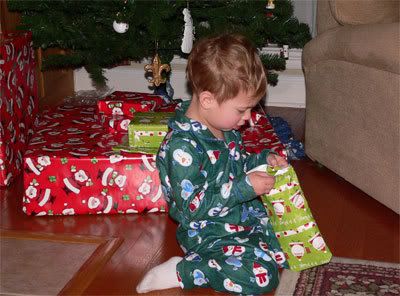 My sisters and me after presents at our parents' house:
There are a million pictures from Christmas at Mark's parents' house, but I don't have copies of those yet. As soon as I do, I'll post one here!
I hope that everyone had a beautiful and blessed Christmas. I know we did!
Today, I have a date with my son. We are going to the mall to ride the carousel and play in the Kids' Play area. We'll eat lunch at the mall and shop for a while. Then it's home for nap time and cooking dinner for Daddy. I can't wait!