Even though the "big day" isn't until tomorrow, we celebrated Mimi's birthday this evening. Salad, steak and potatoes. Yummy! The first words out of Anthony's mouth when we got to my parent's house this afternoon? "Happy Birthday, Mimi! Where's the cake?" That's my boy!
Mimi's present from us was a balloon with money in it. The effect would have been much better if I had been able to find a clear balloon like I wanted to (the only one I could find said, "Get Well Soon!" on it...not really appropriate!). Anyway, here's Mimi using a knife to pop the balloon. Or is she going to stab boyfriend Mike in the heart?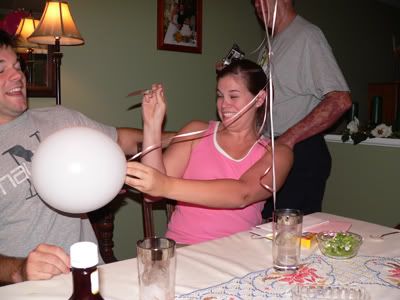 "WHERE'S MY CAKE???"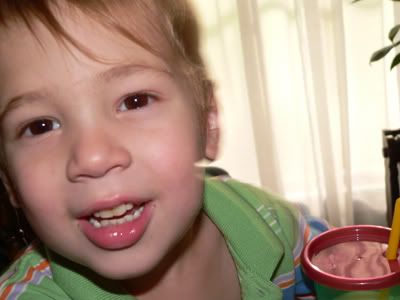 Godzilla (aka: George the Monkey); Anthony's most favorite stuffed animal (of course, it's a monkey!)