Yesterday Mike, Margaret, Mark, Anthony and I took a trip to New Orleans. None of us had been to New Orleans since Hurricane Katrina hit, and we wanted to see Mark's aunt and uncle's house (among others). We did get to see their house (although Uncle Noah wasn't home), and we also got to see my cousin Patsy and her house. We had lunch in Metairie at
Acme Oyster House
with Patsy and then visited the FEMA trailer she and David are living in on David's parents' property. It was wonderful to see Patsy. She always is ready to laugh, even when she was telling us of David's escape from New Orleans after the waters started to rise.
We toured the Lakeview area, the Marina, and then drove down Canal Street into the French Quarter. The French Quarter has mostly come back, and it's hard to tell where "run down" New Orleans ends and Katrina destruction begins in some of that area. I remember from the few months we lived there that there was trash in the city, and that there were buildings with their sides missing. When you see it now, you're ready to attribute it all to Katrina. And while I know that 90% of it is, some of it isn't. And that makes me sad. I hope that New Orleans comes back better than ever.
Mark caught this picture at a house next door to his uncle's house. I just think it's a beautiful picture.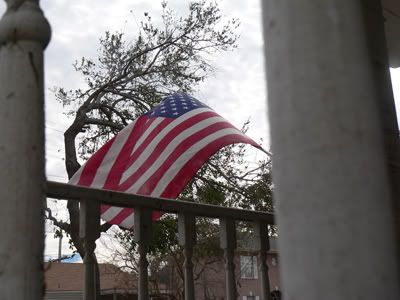 St. Dominic in front of St. Dominic Church. This is the Catholic church that many of my family attend in the Lakeview area. If you look closely, you can see rust lines on his robe where the water sat.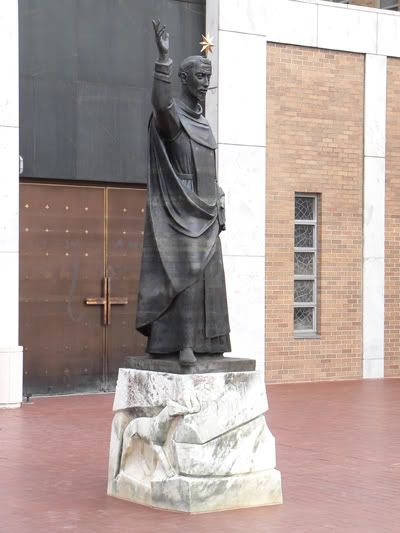 Joe's Crabshack down by the Marina: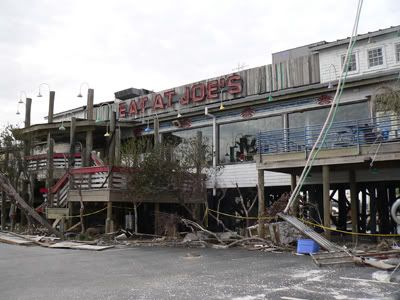 A car still suspended on a fence in Lakeview: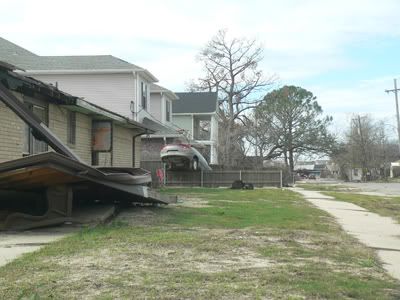 Patsy and David's home.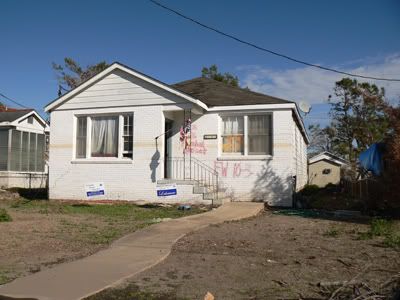 Anthony in the French Quarter with the "dog" (I guess that's what that is) balloon that one of the street artists twisted for him.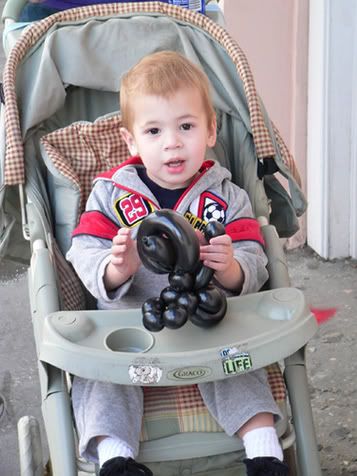 A shot that I took. An urn of pansies, a statue of Andrew Jackson (we were in Jackson square), and St. Joseph's Cathedral.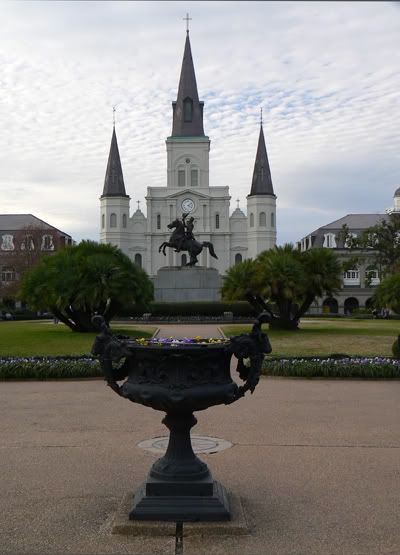 We also rode down to the Audubon Zoo and Children's Hospital. That area has come back really well (they got more wind damage than flooding). Children's looked the same, as did the Audubon Zoo. You could see where a few trees had fallen or been damaged, but it wasn't the destruction of the Lakeview area. We didn't have time to go to Chalmette while we were there. I want to go, but I don't think it's a great idea to take Anthony there. There probably are not many places for him to run around over there.
Mark will be putting up the full set of pictures on his website sometime this week. When he does, I'll link it here so you can see all of the pictures he took.
Anthony and I are off together today while Mark is working (overtime). Have a great week, everyone!
Love, Laurie, Mark and Anthony
Coming up in Anthony-land:
Not much, so stay tuned!