Anthony has had diarrhea on and off now for about 2-3 weeks. It's beginning to really worry me since he's not sick! He's run no fever, he's been full of energy, and he's still sleeping and eating well. I spoke to his pediatrician's nurse this morning and she suggested that we try a dairy free diet for a few days. We're also going to avoid things with lots of fiber (read: Cheerios) and eats things with lots of starch. If this is something viral, it should have worked its way out of his system a while ago, so the peditrician will see him Friday if his diarrhea doesn't improve by then. He'll probably run a few stool cultures and maybe do some blood work (probably including allergy testing). I'm hoping this isn't food allergies, but the more I read about Biliary Atresia, liver transplants and kids with allergies, the more worried I get.
So in keeping with our starchy diet for Anthony, I fixed grits for breakfast. Anthony is in his "No, me!" stage (even though he doesn't say that) and will usually not allow anyone to feed him. So I gave him the bowl of grits and a spoon, grabbed the camera, and let him have at it.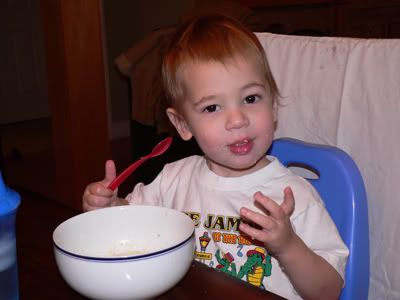 Saying "Chee!" when he finally realized what I was doing: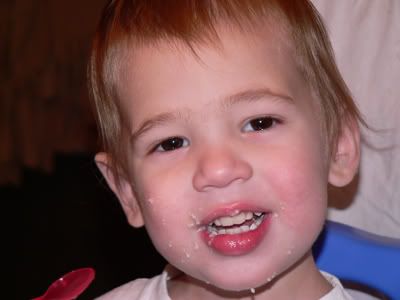 He didn't stop to look up until he was finished the whole bowl.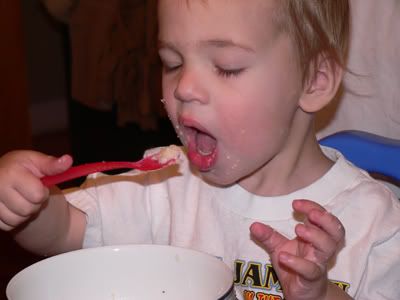 I'll post more about the poop situation once something happens. In the meantime, please say a little prayer that this isn't food allergies.
Love, Laurie, Mark and Anthony