Here is Uncle Paul's new pool boy. He does a great job!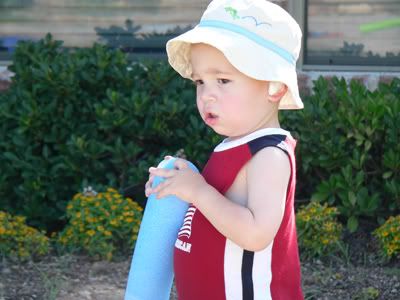 Here's the pool all pretty and clean:
Moving in for a hug: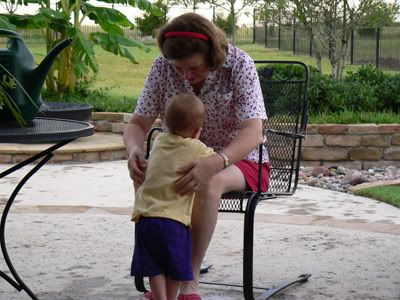 My Aunt Emilie (MiMi) teaching me how to make noise on the drain cover: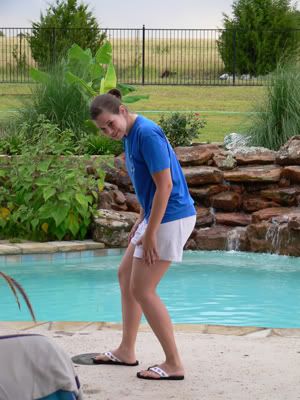 I did it! I made the drain cover clunk!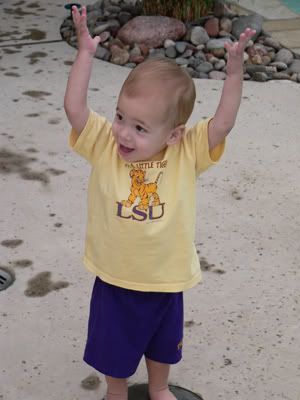 We made it safe and sound to Heath, TX in Rockwall County. Anthony's ENT visit went well. No more infection, no more ear drops necessary. We'll follow up with an ENT at home every three-four months until the ear tubes fall out.
Just as we pulled off the interstate last night, Anthony got car sick. I was so scared! But he had been fussing the last 40 minutes of the ride, and I'm sure his stomach was just really upset. He'd been strapped into his car seat except for two 10-minute breaks from 3:30 yesterday afternoon until we got off the interstate at 11:3o last night. I was pretty sick of the car myself, I just didn't throw up over it. Luckily we weren't far from Uncle Paul's house so we just drove on and took Anthony (car seat and all) up to the bathroom and gave him a bath. Finally around 12:15 we got Anthony to sleep. He took a three hour nap today, so he's ready to go now!
I'll post more cute pictures as I get them!
Love, Laurie, Mark and Anthony