Sometimes I feel as though my life really isn't mine. I begin to wonder if I'm just playing "Mommy" or "Dress-Up". I walk through my house, and feel like it's not all mine. I'm not married, I don't have a child, or any responsibilities. Sometimes I just feel like I'm not supposed to be an adult. It's not that I have the energy of a younger person! Certainly it's not that. I can't really explain it...I just don't feel like it's real. I'll be 29 soon. That's adult, right? That means that I've got responsibilities, right?
I've certainly got a sweet little family: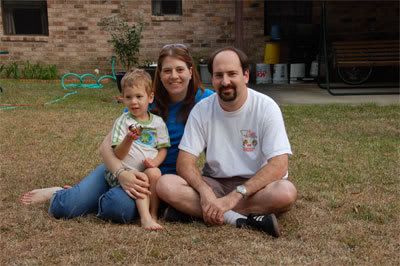 Oh, and at midnight, when your three-year old wakes you up...you realize you've got tons of responsibilities. First and foremost: to get his little butt back in bed and back to sleep so you can get some sleep, too.