Nana, Grandpa, Uncle Matt, Parrain, Mark, Anthony and I took in a bit of the New Orleans Mardi Gras parades this weekend! Anthony was both confused and fascinated by it all.
We saw about half of the
Endymion
parade on Saturday evening. It was really too cold and too late to have Anthony out for the whole parade. As it was, he fell asleep on me at about 4:00, and the parade started at 4:30. He woke up in time for the "real" floats to pass by (he missed the Grand Marshall, Taylor Hicks (boohoo), and the other "pre-floats"). The only good picture of Anthony from Saturday includes me, and, well, it's not something I'm prepared to blog!
We caught
Okeanos
and
Thoth
with my mom's family at the Lafayette Hotel on St. Charles Avenue in Uptown New Orleans. My cousins, Tim and Matt, rode in the Thoth parade, and we were bombarded with things from them. Anthony thought it was SO COOL that our cousins were on a float. I know they couldn't hear him, but he was saying their names over and over.
So, here are some pictures of Anthony enjoying the parades. He got to sit up in two different ladder seats. He's already told me that Paw Paw will have to make one for him (get on that, will you, Paw Paw?)
Before the parades started on Sunday, Anthony posed for a quick picture (before running off and playing with a little boy whose family was next to ours: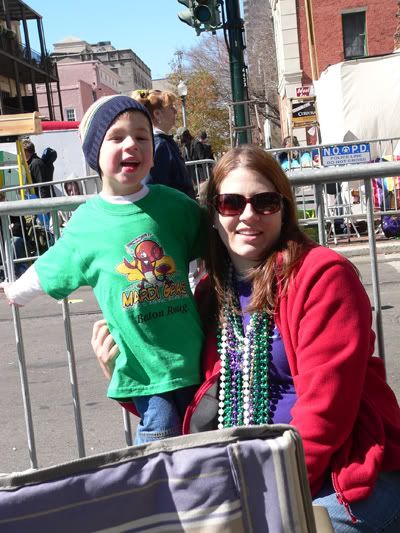 Waiting, with cousin Emma, for the Okeanos parade to start:
This is the float that Tim and Matt were on in Thoth: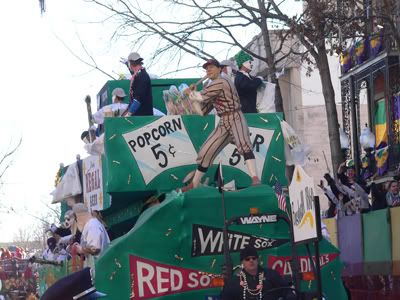 With cousin Madison, admiring the LSU ducky beads that Tim and Matt tossed them: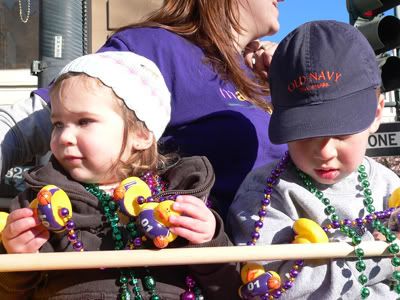 In other GREAT news, Anthony is doing well with going to the potty. He stayed dry all the way through the parades yesterday! He would tell me when he had to go potty. The only near accident we had was when we were caught in traffic trying to get back to Parrain's apartment. Grandpa pulled to the side of the road, and Anthony blessed a brick wall. So now he's really done Mardi Gras New Orleans style!
Today Anthony will go to Nana and Grandpa's house to play with Uncle Matt. I'll try to get some homework done this morning, and then go pick Anthony up this afternoon. Tomorrow is a holiday here (Daddy's off!). I think that Anthony and Mark will go to Thibodaux with Mark's parents to see a parade there, and to visit with Mark's grandmother. I, unfortunately, have more work to do! I have a project due on Wednesday and a test next Tuesday. I'll be glad for the quiet time at home, but wish I could go with them!
Thanks for checking in our our little family, and a HUGE THANKS to Patsy and David for hosting us at the parades yesterday! Thanks to Emma and to Madison for sharing their ladder seats with Anthony!