Anthony gets to go to TWO fairs this weekend! We went to the first one tonight at my parents' Church/School. Anthony had the best time riding the cars and the "BIG slide!". Seeing him so full of excitement was just the medicine I needed today. It's been a rough week for me, and next week isn't going to be any better. School is really stressing me out...so much so that I find myself procrastinating doing my studies because I know I'm just going to feel so overwhelmed. I'm still doing well, but I just feel like I'm going to fail somewhere along the way. I guess it's just all part of getting into areas of study that are SO foreign to me that I can't identify with any of it. I'm slowly getting it, but am just so afraid that I won't understand it all before my tests this week. I'm seeking extra help, so hopefully that will bring it into focus. Please just say a prayer!
Anyway, back to the fair. Anthony got to ride the cars, carousel, slide, octopus and bumble bee rides. He had the best time! Enjoy the pictures! More tomorrow of the Louisiana State Fair (with Nana and Grandpa).
When the car stopped the first time, he looked at me and said, "Make it go!"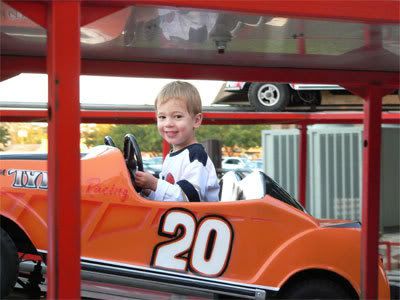 It's blurry, but it shows his pure delight at riding the octopus (Oh, and he told me, "An octopus has EIGHT legs!", just in case you didn't know.)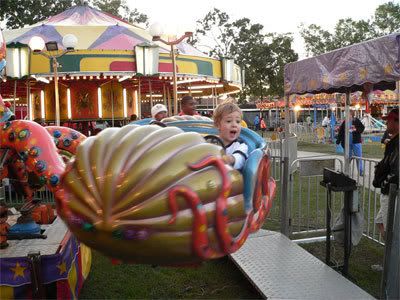 Riding the slide with Mommy (he also got Mimi to go a few times, and Paw Paw to go once).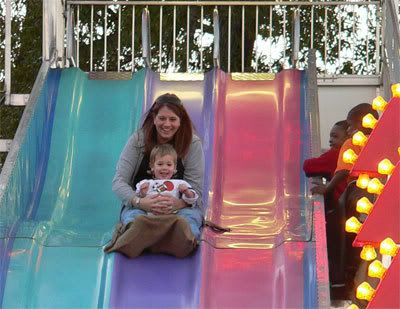 Mommy and Anthony on the carousel.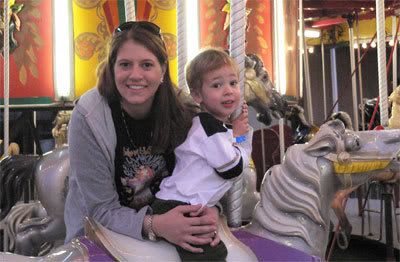 Mimi pretending to throw up on the carousel (it did spin a little fast!)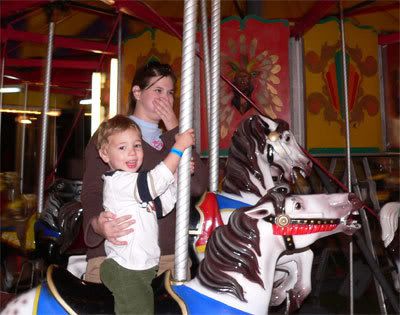 Anthony got Paw Paw to climb the stairs and slide down the slide. Paw Paw and Mommy are both afraid of heights, so we just stared ahead, climbed the stairs, and didn't think about how tall that slide was!