On Sunday morning, Anthony came to me and said, "Grandpa had his turn, now it is mine!" I had no clue what he was talking about until he wandered off singing "Happy Birthday to Anthony!" Knowing that he was going to ask each day when his birthday was (and knowing that it's probably hard for him to comprehend "in a month" or "thirty days", I made a chain of colored paper. Each night, we pull one link off and get excited at how "short" the chain is getting. I find him sometimes, looking longingly at the chain as if he could just pull the whole thing down and "Look! It's my birthday!" But he's been really good about it. Mainly he just looks, fondles the lowest link lovingly and says, "Tonight before bedtime I get to take another one off."
Not...Tall...Enough...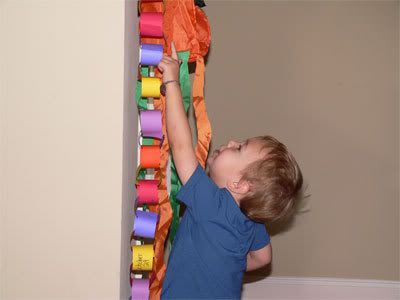 Also on Sunday, I took Anthony to "Boo at the Zoo". It's an event that the Baton Rouge Zoo puts on for kids. There are Halloween decorations everywhere, and tables set up where local vendors give out candy to the kids (and sometimes coupons for free Frosties from Wendy's!!!). Anthony had a blast going from table to table, and seeing the animals in between. It was beautiful weather, too!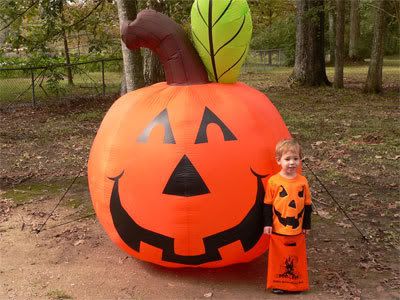 Anthony's Halloween costume still fits him, and he's all excited about getting to be a pirate for Halloween. His class party is Friday, so he's in the mood for Halloween (so is Mommy!). Happy candy getting and/or giving! My kid is still young enough to not understand that he needs to bargain for ALL of his candy! Muh-wah-ha-ha!