Tonight we had our neighbors over for dinner. We just went simple with barbeque hot dogs, homemade Mac'n'Cheese (my Maw Maw's yummy recipe!) and chocolate pudding. Our neighbor's daughter will be one-year old soon, and she is just so adorable. Anthony had the best time peeking at her while she sat in her booster chair playing with a toy. She laughed at him and offered up a few Cheerios, too!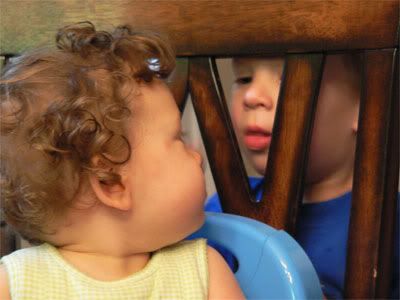 Anthony's moving in for a hug, and Lilah just wants to get back to her toy:
I hope you all had a wonderful Fourth of July!
Love, Laurie