Anthony decided this was the best way to watch his Baby Einstein video this morning. He climbed behind the cushion on our sofa and stood there: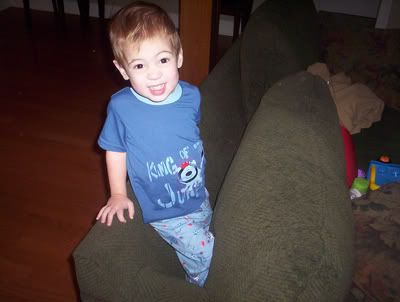 After
Baby Einstein: On the Go
was finished, Anthony decided to read books in his room. His favorite book of the moment is
Goodnight Moon
(yes, that old classic!), and as he turned each page, he said, "Night night".
Fun planned all around this weekend!
Love, Laurie, Mark and Anthony
Coming up in Anthony-land:
Saturday: Anthony spends the night with Nana and Grandpa
Sunday: I'm sure we'll spend some good quality time at Maw Maw and Paw Paw's house!