After 11 hours of travelling on Thursday, we arrived in Georgia safe and sound. Anthony was a wonderful boy the whole way here (thanks in part to Baby Einstein and a portable DVD player). Mark's brother Matt lives in
Byron, GA
, a small town about an hour southeast of Atlanta.
Yesterday we went to the Warner Robins Air and Space Museum near the Warner Robins Air Force Base (where Matt works). We had a good time looking at all of the planes and the uniforms the officers wore in different wars. Below is a picture of the happy family before we went in to the museum.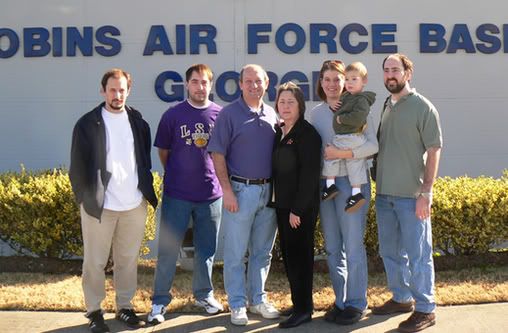 In the gift store, there was a pilot's jacket in Anthony's size. Since the cost was about three times what I would pay for a jacket Anthony will wear only one season, we had him try it on and model it for the camera. Then it went back on the hanger and we left the shop. Not without a t-shirt and a plastic helicopter, though.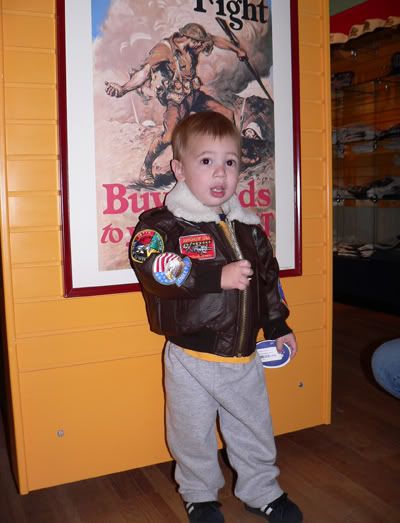 The museum is a grouping of four buildings and some outdoor exhibits, meaning we did NOT walk through the whole museum with a two-year old in tow. Mark and his dad went back today while Nana, Anthony and I went shopping(!). After nap time, Mark and Grandpa took Anthony to the small playset in Matt's apartment complex. It's just the right size for Anthony to climb the ladder and slide down the slide with little assistance, and he had a good time wearing himself out. He'll sleep tonight, for sure!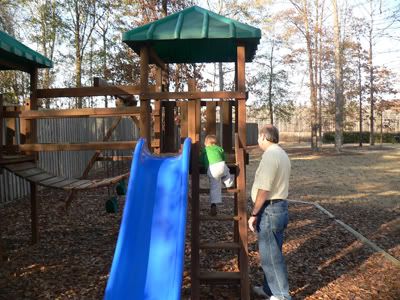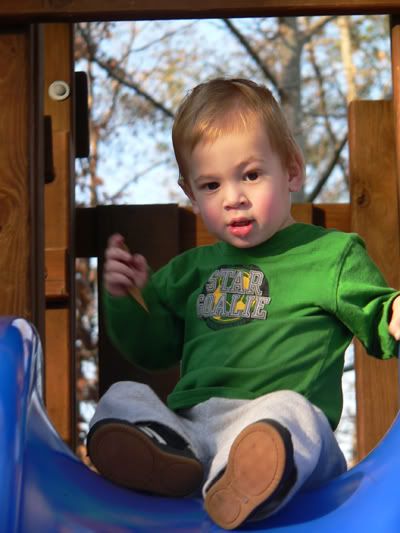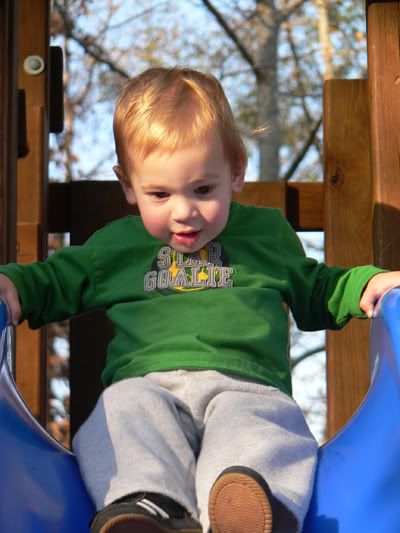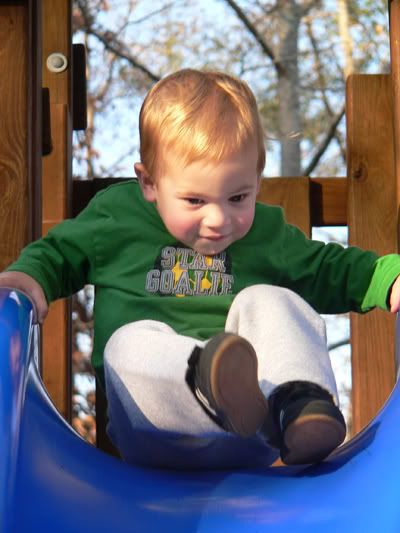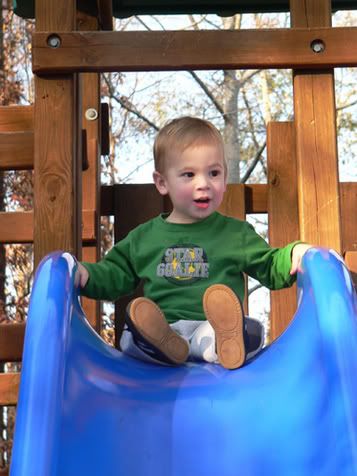 Anthony didn't take a nap yesterday and during dinner last night his head started bobbing at his place. When I asked him if he wanted to go to bed, he nodded his head yes (something he's never done). After I changed his diaper, he climbed right into his bed and went to sleep. It was so cute to see his little face bobbing up and down and him trying valiantly to stay awake.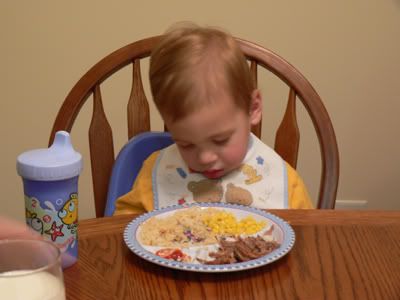 Tonight Mark and I will drive to Atlanta to visit with a friend and his girlfriend. Anthony will stay with Nana, Grandpa and Uncle Matt. Tomorrow we'll all go to visit Mark's cousin, his wife and their two children in Marietta. We'll spend tomorrow night back in Byron and then come home on Monday.
I hope everyone has a wonderful and safe New Year's Eve. Happy 1-year transplant anniversary to Bekka (a little girl who received a liver/small bowel transplant in Omaha last year)!!! Also, Tanner and his sister Morgan are both battling RSV, although they have managed to avoid having to go into the hospital. Please pray that both Tanner and Morgan get better soon!
Love, Laurie, Mark and Anthony