Yesterday Mark, Anthony and I, along with Mark's parents and two brothers, visited Mark's (paternal) grandmother for her birthday. We ate at a good restaurant and then went back to her house for cake. Below are pictures that prove that I had nothing to do with Anthony's genetic makeup: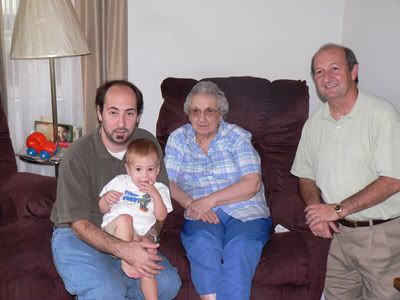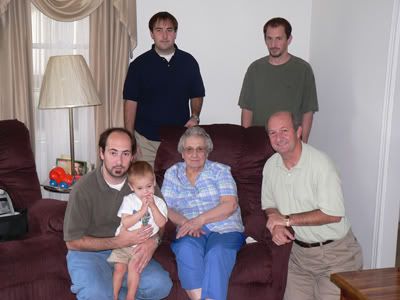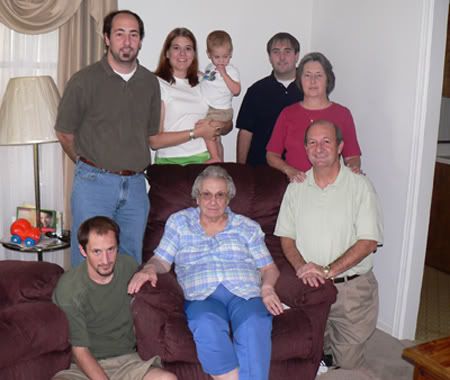 Front row: Matt, MawMaw, Mike
Second row: Mark, Laurie, Anthony, Marshall, Margaret
Mark's family let me carry Anthony for nine months, but it's time you all know the truth...he is 100% Mark. He looks like Mark, acts like Mark and will probably even talk like Mark. It's mildly depressing, but since Anthony is so damn cute, I guess I'll keep him. Plus, I can give the ole gene pool another try with the next kid, right? :)
Today we will go to my parents' house for my cousin's birthday party. The celebrations won't stop!
One last thing before I go: my cousin, Patsy, and her family have pretty much lost their house in New Orleans. I got an email last week from Patsy asking me if I could help locate their cat, since they were not able to take her with them when they left. Well, this morning I got another email from Patsy saying that Killah is alive, and is getting some TLC at a vet in New Orleans. Killah decided to ride out Hurricane Katrina at Patsy's house and made it for three weeks without them! I think they need to change her name from Killah to Suvivah (that's Survivor for all you non-New Orleanians). What a great cat!
Love, Laurie, Mark and Anthony
Coming up in Anthony-land:
The same old, same old...
Monday - Friday: day care